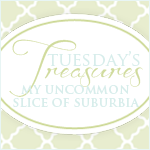 Hello I hope you all had a great weekend!!!
I got some little projects done, did not feel like doing much, this crap I have had DRAINED me.
Last summer my hubby built this potting bench out of whatever lumber was laying around close...and I do mean whatever was available...SMILE..most of it does not match...that was ok with me, I liked how it was miss matched, it made it look like it was built right along with the old shed.
Over the weekend as I walked back and forth to my garden shed...I kept saying, you poor thing, you need a makeover...Giggle...
First I cleaned everything off, it was a mess from sitting thru the winter, and grass clippings from last year. I got rid of lots of old pots, which was hard for me, as I tend to keep them all...BIG SMILE.
I added the top shelf for my Terra Cotta Pots and just to add some extra storage. I then got out the summer decorations and added some country charm.
Still it looked to worn out, so I rummaged through my old paint and found some white wash that I had mixed a while back and CLICK!
After I got the painting done, which turned out great, it gave it a fresh look, but kept the weathered, distressed look.
I decided it still needed dressing up a bit...off to the stencil drawer and some purple paint...I DO LOVE PURPLE AND PINK!!!
I did a little floral along the front in a couple places and then ONE Flour De Les on one of the legs.
Like I said the materials do not match, so was find a place where something will fit...WINK, WINK.
Also I did get some of the yard mowed, so it is cleaned up around it now too...(
with a sweet innocent smile
) This area is very popular this time of year and all through the summer months..
So now my little potting bench has made it's Spring debut, and is ready to be put to good use getting all the pots full of flowers...Ok the weather has to do it's thing and BRING ON THE FLOWERS!!!
I guess this weekend was take it easy weekend, because I did tend to get the little things out of the way..
A while back I had hung this old shutter by my computer station to keep bills and papers organized.
I decided it too needed a makeover.
And then I moved on to my porch....REALLY BIG SMILE
Add caption
The sun was a little harsh in these photos, the Beautiful Day was coming to an end...Sad face...:(
But in the end, I had a great weekend and even though the week had been a bust because I have been sick....I was very productive...
patting my self on the back...LAUGHS!!!
I hope you all had a great one too....
Until next time...
Charlene
aka Hink